DQ® Canada's 21st Annual Miracle Treat Day in-store event
Presented by:
Teagan Kelly
Category:
Food and Drink
Price:
$0
Date:
August 10, 2023 – August 10, 2023
Address:
Your local DQ®, Charlottetown, Prince Edward Island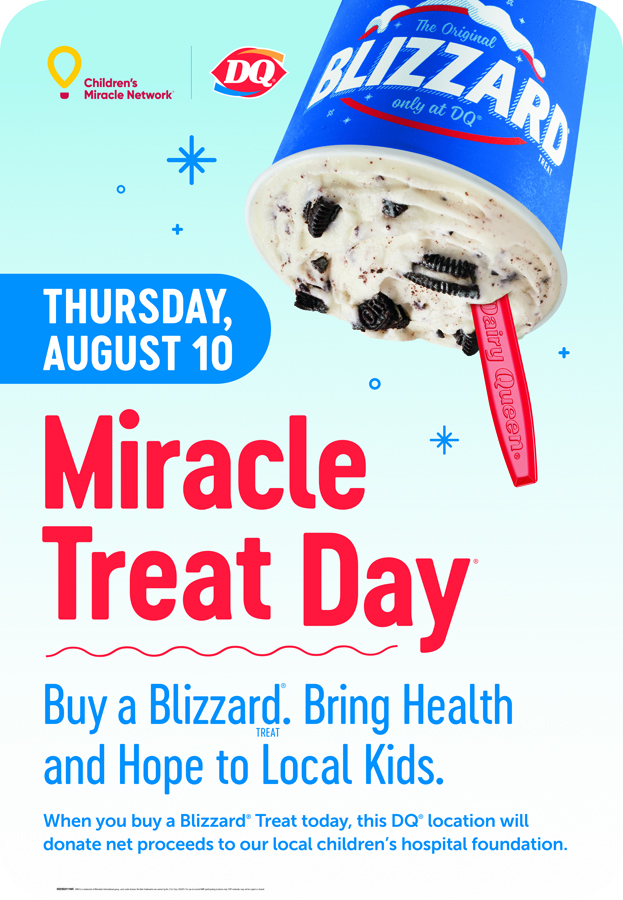 On Thursday, August 10, Miracle Treat Day is back. DQ fans in Prince Edward Island can continue the 21-year tradition of helping making miracles happen for children and their families by visiting their local DQ to celebrate Miracle Treat Day. The funds raised locally stay local—net proceeds from every Blizzard Treat sold at participating DQ locations in Prince Edward Island will be donated to IWK Foundation, one of 12 Children's Miracle Network hospital foundations across Canada.
In 2022 alone, local children's hospitals across Canada delivered care to children through more than three million in-person and virtual visits. DQ employees, franchisees, volunteers and stakeholders come together throughout the year to help raise funds that allow children's hospitals to provide the best care possible. Since the partnership began 39 years ago in 1984, DQ has become a top contributor to Children's Miracle Network, with over $48 million raised to date in Canada.
Media are invited to attend Miracle Treat Day at their local DQ.
For more information about Miracle Treat Day, visit MiracleTreatDay.ca or follow along on social media with #MiracleTreatDay.
Media Contact:
Alyssa Bomben Tomczak
alyssa.bomben@mediaprofile.com
905-865-2177
Canada's Children's Hospital Foundations Contact:
Melissa Greer, Director of Marketing & Communications
mgreer@childrenshospitals.ca
Get Directions
Your local DQ®
Other Events
No Similar Events Found